CELEBRATING THE SACRED SACRAMENT OF MATRIMONY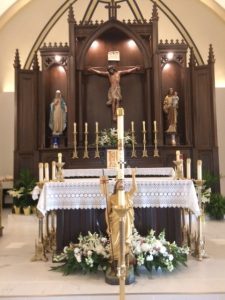 Congratulations on your engagement! 
We are excited that you have chosen our Church, Christ the Redeemer, to begin your journey into marriage!  It is a very special time in your life.  Matrimony is a sacrament that is seen as the love uniting Christ and the Church, establishing a permanent bond sealed by God.  It is one of the greatest blessings in life and one of the most important decisions you will make.
It is our hope that the following information will assist you in preparing for the sacred sacrament of Matrimony.  The staff and clergy of Christ the Redeemer wish you every blessing as you begin your lives together!
SCHEDULING THE CEREMONY
If you are considering a wedding at Christ the Redeemer Church, please contact our Parish Office (706-265-1361) AT LEAST 6 MONTHS IN ADVANCE of your wedding, The Office will immediately connect you with a Wedding Director to assist you in preparation for the special day!   The WEDDING RESERVATION FORM should be received at this time.
WEDDING TIMES
Saturday – 11:00 AM & 1:30 PM
Friday     –   6:00 PM
REHEARSAL
Rehearsal for a Friday evening wedding will be on Thursday at 4:00 P.M.
Rehearsal for a Saturday wedding will be on Friday at 4:00 P.M.
FEES
A wedding fee is required for usage of the church facility, providing of wedding services and church maintenance. An additional fee will be required for our music coordinator, to be established when you meet with her.  Basic fees are determined based upon parishioner status.  To qualify for the Active Registered Parishioner rate, you or your parents must be registered and active at Christ the Redeemer for at least 6 months before reserving wedding date.  An "active" parishioner is defined by regular attendance at Mass, participation in the parish, and financial contributions on record at our parish.
ACTIVE REGISTERED PARISHIONER FEE –  $500
NON-PARISHIONERS OR NON-ACTIVE –    $1,000

Your wedding date is confirmed upon receipt of the Wedding Reservation Form and payment of fees (if needed, payment plan can be worked out- deposit required)
Make checks payable to Christ the Redeemer Catholic Church.
MARRIAGE PREPARATION
Marriage Preparation in the Catholic Church also requires a marriage preparation program, important to the success and happiness of your future life together.  You are able to set up a marriage preparation course through the Archdiocese by clicking HERE
Your engagement is also a good time to reflect on the practices of your faith, your prayer life, Sunday Mass attendance and reception of the sacrament of Reconciliation.
All these will give you a solid foundation on which to build your married and family life.
REQUIRED DOCUMENTS
BAPTISM CERTIFICATE – may be obtained by requesting a "newly issued" copy of the certificate from the parish where you were baptized.
AFFIDAVITES OF FREEDOM TO MARRY – both the Bride and Groom, whether Catholic or not, will each be asked to provide two affidavits testifying to their Freedom to Marry.  This document can be obtained at this Church.
MARRIAGE LICENSE – YOU MUST OBTAIN A MARRIAGE LICENSE! The license for a wedding in Georgia can be obtained at any Probate Court in the State of Georgia and is valid anywhere in the state.  The Marriage License and return envelope furnished by the county should be turned in to the Parish Office at least one week prior to your wedding. The wedding license will be kept in your file for safekeeping until the day of your wedding. It is illegal in Georgia for a clergy member to officiate at a wedding unless a license is in hand and the rehearsal will not take place if the license has not been turned into Parish office.
FACILITIES
MAIN CHURCH – Our Church can seat approximately 500 guests (100 during pandemic).  We recommend no more than 5 attendants each for Bride and Groom in the wedding party.
BRIDE'S ROOM – Our Bride's Room is available to the Bride and her attendants only.  Food and drink (non-alcoholic) may be brought in.  The room will be locked during ceremony but please gather belongings after ceremony.  Christ the Redeemer will not be responsible your property.
AN ELEVATOR is also available.
THE CEREMONY
A NUPTIAL MASS is a wedding that includes both the Sacrament of Marriage and the Sacrament of the Eucharist.  Marriage between two Catholics is most often celebrated during a Nuptial Mass.  A Priest is required for a Nuptial Mass.
A WEDDING CEREMONY includes only the Readings (Liturgy of the Word) and exchange of vows.  This is often the choice for a marriage between a Catholic and a non-Catholic.
Living together outside the sacrament of marriage is a mortal sin, and thus, in good conscience a Nuptial Mass will not be performed.  It is strongly encouraged, for the future sake of the marriage, that you do not cohabitate during your engagement and it is important to speak to the clergy about performing your matrimonial sacrament.
All ceremonies will take place in the Church: no outside vendors, barns, gardens, grotto, etc,
READINGS/PRAYERS
The wedding director will provide the couple with a booklet of various options for the readings and prayers within the ceremony.  Reading Selections must be finalized TWO MONTHS before rehearsal and must be read by someone 18 or older.
A wedding program of your celebration is suggested as a helpful tool to guide your guests through the ceremony.
CLERGY
Visiting priests or deacons from other parishes are welcome to celebrate weddings at Christ the Redeemer.   The Bride and Groom must personally contact him so he can be notified of our wedding procedures.  Please have him contact Christ the Redeemer to ascertain his acceptance of the responsibility of preparing the Bride and Groom for all facets involved in their preparation for the sacrament of marriage.
If you are registered at another parish, you will need to invite a priest from your parish to come to Christ the Redeemer to celebrate your wedding.
INTERFAITH MARRIAGE – in marrying someone of a different faith the Catholic party promises to maintain his/her own faith and raise the children in the Catholic faith.  In all cases, a Catholic Priest or Deacon is required to celebrate the wedding.
Stipend for Clergy – Many couples make a personal gift for the Priest or Deacon who celebrates their wedding at their wedding.  This amount is up to your discretion.
Altar Servers, if any, should also receive a stipend of  $25 each.
FLOWERS
You may sponsor for flower arrangements for the altar for the weekend of your wedding if you wish and the flowers will then remain at Christ the Redeemer.  A florist must be engaged for other floral arrangements (bouquets, etc.)
If the Bride and Groom would like to purchase flowers, and dedicate them to the Blessed Mother, an opportunity after Communion will be offered.
No aisle runner or pew decorations are allowed
Flower girls and ring bearers are all allowed.  However, no flower petals may be tossed.  For ring bearers, the real rings may NOT be attached to the pillow.  The real rings should be placed on a dish on the altar BEFORE the ceremony.
 NOTHING CAN BE THROWN INSIDE OR OUTSIDE THE CHURCH. 
That includes flower petals. rice, bird seed, bubbles, etc.
 MUSIC
Music director needs to be contacted regarding the music for the ceremony. All music must be chosen from an approved list, which will be provided.
Any fees for music will be discussed directly with the music director. 
You will meet with a music director about TWO MONTHS before your wedding date to discuss the music for your ceremony.
Music Director: Scott McCloy (click to email)
GENERAL GUIDELINES FOR MUSIC
Only live music is allowed- no recorded music
All music, including vocal selections, must be sacred in nature and taken from suggested and appropriate music selections
All music will be performed in choir loft
No music rehearsal will take place during the rehearsal because of time restrictions
PHOTOGRAPHY
The Bride and Groom make their own arrangements for photography.  These are wonderful remembrances of your special day and it is important to keep in mind the sacred nature of the occasion.
Some important guidelines to keep in mind:
The photographer will dress appropriately and arrive at least 30 minutes before ceremony.
 The photographer will stay in back of church and never come up FURTHER THAN 4TH PEW AND NEVER ENTER ALTAR AREA.
The photographer is allowed to take pictures 30 minutes after ceremony making sure that all pictures taken with clergy are taken first.
It is a good idea to give your photographer a complete list of your requests a week before wedding to expedite photography time allotted
Photographer will be asked to sign a required list of Christ the Redeemer photo guidelines.
The bride and groom are responsible for ensuring the photographer has received the guidelines and agree to abide by them. 
VIDEO
Video equipment is allowed in choir loft (3rdfloor) only and should be there at least 30 minutes before ceremony
Video equipment must be stationary during ceremony.  No roving cameras are permitted
Wireless microphones may be worn by Bride and Groom
No flood lights or any special lighting may be used during ceremony
 No wires laid across aisles
Videographer must sign the video outlines of Christ the Redeemer
The bride and groom are responsible for ensuring the videographer  has received the guidelines and agree to abide by them. 
GENERAL GUIDELINES
No smoking is allowed anywhere
No alcohol allowed anywhere on Parish grounds, church or Bride's Room
Nothing can be thrown on Parish grounds
Receiving line will take place at Reception, not in the Church
THE BRIDE AND GROOM ARE RESPONSIBLE FOR THE APPROPRIATE BEHAVIOR OF ALL PARTICIPATING IN THEIR WEDDING CEREMONY.  YOUR WEDDING IS A SACRED LITURGY AND THE BEHAVIOR OF ALL MUST REFLECT THE SANCTITY OF THE CEREMONY.
WHISTLING, CHEERING, ETC. IN THE SANCTUARY DURING THE CEREMONY OR REHEARSAL IS NOT ALLOWED AT ANY TIME. 
---
COUNTDOWN TO YOUR WEDDING
6 MONTHS or sooner – contact Parish Office to begin the Christ the Redeemer reservation process.  Fill out Wedding Reservation Form
Pay fees
Set up Marriage Prep Course with Archdiocese.
Obtain necessary documents.  Marriage License must be returned to Parish Office ONE WEEK BEFORE WEDDING
Set up Photographer and Videographer
3 MONTHS – Arrange meeting with Church Wedding Director.
2 MONTHS –Meet with our Church music director to discuss sacred wedding music
2 MONTHS – Choose readings, prayers, and readers for ceremony.  Can be discussed with wedding director
REHEARSAL- Evening before wedding in church.  The rehearsal will take place in the Church and only Bride, Groom, wedding party and readers will attend.  Rehearsal time allotment is 45 minutes and all present will comply with appropriate behavior guidelines.  There will be no music rehearsal at this time.
WEDDING DAY! Remind all involved with Behavior Guidelines.
The wedding party should arrive one hour before the wedding.  A wedding coordinator will greet you to guide you to the Bride's Room and the Groom/Best Man waiting area and help orchestrate procession.  Receiving line, after the ceremony should be held at Bridal reception and not at the Church.
CONGRATULATIONS! 
We at Christ the Redeemer consider it a privilege to assist you in your preparation for the Holy Sacrament of Matrimony.
"The greatest marriages are built on teamwork, a mutual respect, a healthy dose of admiration, and a never-ending portion of love and grace." -Fawn Weaver