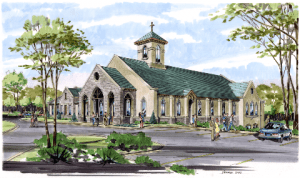 Prayer for Success of
We are family: grounded in faith, growing to serve campaign
Heavenly Father, we thank you for the many blessings
you have bestowed on our parish. By your grace,
Christ the Redeemer is truly, "where we are family."
We thank you for the gifts, talents, and treasures you
have given us and we pray that You will help us use
these gifts to honor and serve You by serving one another.
Send your Holy Spirit upon us to guide us as we try to
do your will by building and expanding Your presence
in our community. As we seek to build, keep us ever
mindful of our true home in heaven and let our efforts
here below glorify You and bring others closer
 to Your sacred heart.
May Your wisdom and grace go before us as we
embark on this next step in our mission.
We ask all this in the name of Jesus, Your Son. Amen.
Holy Mary, Mother of God, Pray for us!
St. Michael the Archangel, Pray for us!
St. Jeffrey, husband and father, Pray for us!